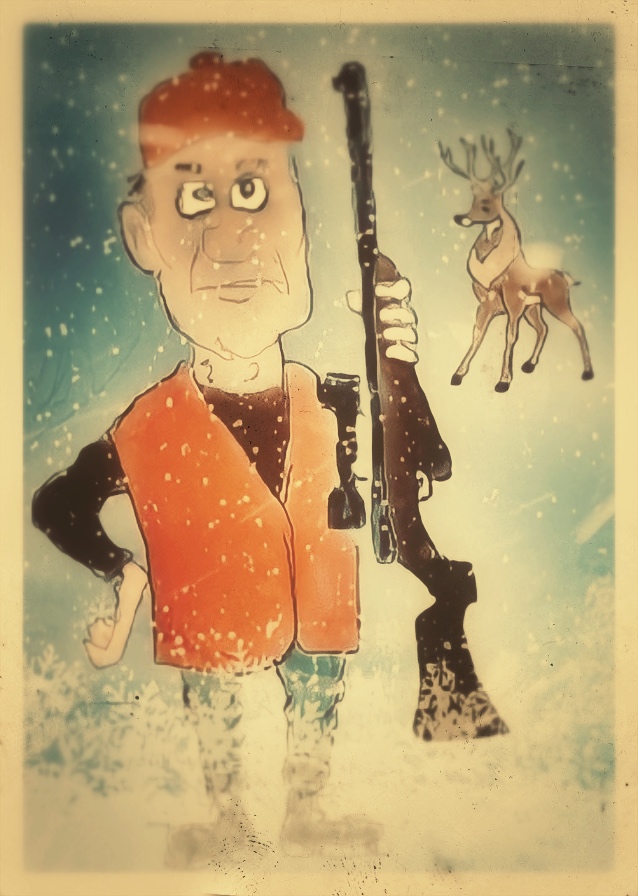 It was still dark when my son and I sat shivering at dawn, in a rickety old deer stand, in the freezing cold of a frosty January morning. It was our fifteenth day hunting deer in a stand of hardwoods that had thus far revealed nothing other than several pesky squirrels; one screaming, (snitching), squawking, Bluejay; and a gaggle of turkeys that meandered about like a group of church women looking for a sinner to save.
There was plenty of sign! As a matter of fact, the only reason I had picked this exact spot for my young son's first deer hunt was because, if you judged by the sign, it was a veritable metropolis of deer activity.
However, we had gone over two weeks with nothing other than sign to substantiate our hopes and dreams of deer loin and a full winter freezer.
The weather that deer season in Ohio had been very mild. Archery season had opened in Mid-September while it was still quite hot and I am not the guy who believes in harvesting deer while there are still ticks on them.
The weather had stayed mild throughout the season even into Mid-December when the state gun season had started. Me and the boy had gone out faithfully everyday even though we averaged a temperature of about 50 degrees or so. And, we hadn't even so much as gotten a single shot. We had not even seen a single deer, let alone any married ones. We did see plenty of sign though which was evidence to me that they had gone completely nocturnal for some reason.
Our state, Ohio, had a late season gun hunting session which took place in early January and which only lasted 2 days. By early January it had gotten cold.
It was on this day that we found ourselves shivering in this treestand fully expecting to have more of the same bad luck that we had received all season long. I was contemplating crawling down out of the tree and going home, as the first light of dawn illuminated the forest, and just as I was about to recommend to the boy that we run into town and see what Loretta had on the breakfast menu at the local diner; I heard something crunch.
Looking down I saw a young meaty doe drift quietly beneath our stand and glide through the meadow we were overlooking. Simultaneously, there were suddenly several does walking amongst us, moving hurriedly as if there were some urgent business to attend to. The boy shot a very fat meat doe clean and quickly. His first deer!
This taught me a valuable lesson in the habits of deer and the effect of the weather on their habits. Deer, just like people, are subject to the influences of the environment on their well being. The cold makes them move to keep warm. I have used this strategy ever since that day, and have had a successful hunt each and every  time I wait for a cold snap to sit a deer stand. It also seems to me that the snowier it is , the better.