Survival 101: 3 things you must do now to get your sugar on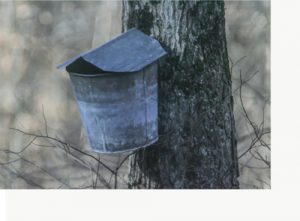 If you are a survivalist, prepper, self sufficient, hobbyist, naturalist, do it yourselfer, or just a fan of delicious sugary goodness then now is the time for action!
I speak of course of the time of year for those of us who are self-sufficient to get our tin buckets out of the shed and tap those trees that are good for syrup making. Of course we all know that we can tap all types of maple trees to get the sap for syrup, but did you know that you can also tap walnut trees and birch trees?
If you are into this, or if you have ever wanted to get into it, then now is the time to get started, and here are three things you must do right now in order to get started.
_______________________
Go out and find good sap trees. The bigger the better, and you need to map your trees and mark them as you go so that you don't forget where they are. A quick Google Maps search or check through your local auditor site will usually leave you with a great topological map that you can print and use in the field, but a better option is to use a smart phone and make a gps map in an app.
Gather all of your equipment together at once. You will need cans, tops, taps, a rendering pot, and lots of receptacles for storing your sugary goodness.
Set up a block of time. Though I'm not going into detail on technique in this writing, I will tell you that it will take hours for your sap to render to syrup… it takes ten gallons of sap to make one quart of syrup. There are plenty of tutorials out there for making maple syrup, and it is not rocket science. As a matter of fact, Penn-State University has an excellent resource for sap rendering and syrup making. 
Making and rendering your own maple, walnut, or birch syrup is second only to churning your own butter or grinding your own flour. It is also inherent to having your morning pancakes become something that is more than just breakfast… they become an experience.