SPARTAN SWIM CUT RIFLE PLATE CARRIER; 3 REASONS IT'S A GOOD BUY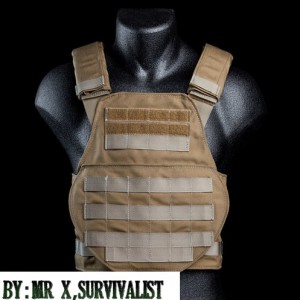 I have given some shout outs in the past for several tactical armor systems that I have found to be particularly useful, and I will continue to do so whenever I find a product that fits the bill, and that offers you, the consumer, a hell of a deal for a good price. That's why this old anti-terrorists fingers were twitching today when the USPS man rang my doorbell and I got my brand new swim cut Spartan® brand rifle plate carrier with side, front, and back plates,( rated for up to a 7.62×39). I got the whole package for… wait for it… $199.00 USD delivered. When I first found the ad on Google during one of my many forays into the realm of current survivalist gear and weaponry, I had never heard of Spartan Armor Systems and figured this would be some second rate, fly by night organization that was just trying to separate me from my hard earned cash. Then I called up a Ranger buddy of mine, M.J. Jarvis, who had recently returned from Afghanistan and he told me that he was going to order one right then just to have a spare. So, with still some trepidation… Jarvis will have you do some dumb shit just for a joke sometimes, I keyed in my order and got it just three days later… no shipping charge. I have to say that I have never been happier. Not only is this armor lighter than the thick ceramic armor I have been using, it is also incorporated into a very well designed carrier that has no plastic snaps at all… everything is triple thick, heavy duty Velcro. Here are the three main reasons I love this plate carrier and why I'm going to buy a few more when the funds come through.
It comes with four rifle plates. Even though they are not yet coated with anti-spalling compound, they are primed with base coat. Some truck bed liner will work marvelously I should think. But for the price, who can fuss? The good news is that for $200 you are covered front, back, and on both sides.
It is well manufactured and heavy duty. The plate compartments are built tough enough to last. An ingenious design holds your plates in securely, while being flexible enough to offer you the greatest in flexibility. Like I was asked once by one of my guys when we were dry fitting his rifle plate with his trauma kit… "What if I got to duck and roll sarge? I can't do it with this bulky shit on!"
THE PRICE! Did I mention this entire system is on sale for $199.00 delivered?