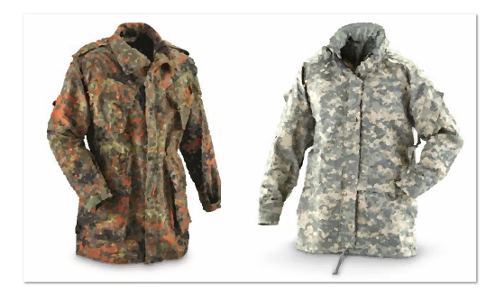 Flecktarn is a term derived from two German words, Fleck and Tarnung, which mean speckled and camouflaged respectively. This pattern was developed by German engineers in the 1970's and replaced the more floral pattern of Germany that was popular during WWII.
What's interesting is the comparison of modern American military digital camouflage, adopted in 1992, to its European counterpart.
There are as many styles of camouflage as there are tastes in women. And the fact of the matter is that each one has its own use and advantages, depending on the environment and situation that one finds oneself in. Some of the styles of military grade camouflage are as follows:
Brushstroke. Developed by British during WWII using large brushes to paint different swaths of colour over their khakis before jumping into enemy territory.
Tigerstripe. Very similar to brushstroke and popularized in the jungle warfare experienced in Vietnam, these cammies were highly sought after but rare, being used mostly by elite special forces and supply clerks.
Duck Hunter. Used mainly by US Marines fighting the Japanese in the Pacific Theatre of WWII. This style became popular amongst American outdoorsman and was prolific in early department megastores like K-mart.
Engineer Research and Development Lab, (ERDL). This pattern was much like the Duck Hunter pattern in the fact that it was popular with hunters.
Woodland Camo. This was by the far the most popular of all of the camouflage patterns, at least until the early 2000s when the digital camouflage came on the scene.
The end result of all of this has culminated in the modern American digital camouflage. The United States Marine Corps was the first military branch to adopt the micro-pattern camouflage, finding that the small dot pattern was more inherent to camouflaging than any of the larger pattern, blob style patterns.
And in the end, even though the German style of Flecktarn is stylish, sporty,  and sustainable, it is not as effective at hiding you in the bushes as is the American digital pattern.